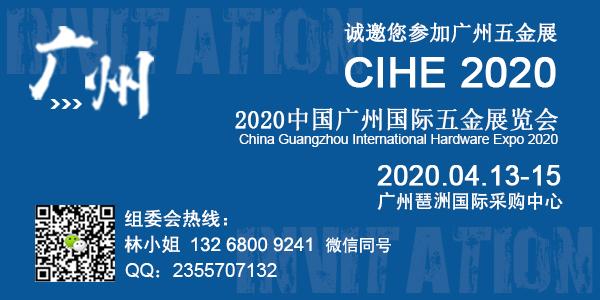 2020中国广州国际五金展览会
Chinngzhou International Hardware Expo 2020
Contact information of the organizing committee:
Guangzhou Zhongqi Exhibition Co., Ltd.
Tel: 020-2919 8928
Fax: 020-2919 8989
E-mail: 13268009241@139.com
Contact: Miss Lin 132 6800 9241 WeChat with the same number
QQ: 2355707132
We sincerely invite your organization to participate in the exhibition - CIHE 2020

Professional for the hardware industry international brand event, the global procurement preferred platform!


Time:

April 13-15, 2020



Location:

Guangzhou Pazhou International Purchasing Center



Organizational Unit:

Guangzhou Zhongqi Exhibition Co., Ltd.



Concurrently held:

2020 Second Guangzhou International Fasteners Exhibition

— Excellent business opportunity —

The CIHE 2020 was held during the "Canton Fair" period, and the "Canton Fair", which enjoys the reputation of "China's First Exhibition", has more than 200,000 buyers each year, from more than 100 countries and regions. We will make full use of the huge resources of the "Canton Fair" global buyers through a series of channels, and through the Organizing Committee Customer Relationship Invitation System, we will send invitations to more than 300,000 buyers at home and abroad to interact with the "Canton Fair" buyers. At the same time, it will make up for the shortcomings of the "Canton Fair" domestic sales and form the role of "one internal, one foreign and the other complement each other". Relying on the huge passenger flow of "Canton Fair", hundreds of thousands of buyers from China and abroad gathered together, domestic exports are booming, business opportunities are unlimited, market potential is immeasurable, and huge business opportunities are fully demonstrated. It is an important platform for exploring domestic and foreign markets!



— prime location —

Guangzhou Pazhou International Purchasing Center and the Canton Fair Exhibition Hall are separated by one road and form a perfect docking. It connects the Canton Fair's similar products exhibition area. It is only 200 meters away from the Exit A of Pazhou Station on the 8th line of the Metro. The transportation is very convenient and convenient for domestic and overseas merchants. Come visit the purchase and negotiate the transaction.



— Purchasing team —

The event will be invited from China, the United States, Germany, France, the United Kingdom, Italy, Brazil, Mexico, Spain, Russia, Sweden, Czech Republic, Hungary, Africa, the Middle East, Japan, South Korea, India, Turkey, Singapore, Vietnam, Thailand, Hong Kong, Taiwan, and other countries and regions in many hardware application market industry buyers, suppliers and internationally renowned procurement logistics associations organized a delegation to visit the procurement, negotiate transactions.



— Return on participation —

Face-to-face communication with each domestic and foreign purchasing decision-makers, and reach a deal with interested customers, expand brand influence among professional customers; establish domestic and overseas distribution networks, expand domestic and foreign markets; promote new products and technologies; open up new markets; understand competition Opportunities and industry trends; insight into the latest international technology and information; meeting old customers and developing new businesses.



- organization -

The exhibition is an international brand event held by China Automotive Exhibition in accordance with the principle of "professionalization, internationalization and branding". Co-organized by many units at home and abroad, both government support and industry authority participation. During the exhibition, the Ministry of Commerce, provincial and municipal leaders, and industry authorities will visit the exhibition and attend the opening ceremony.



— High-end forum —

The exhibition will invite authoritative experts in the hardware industry to discuss the latest developments in the Chinese and foreign hardware application market, development trends, division of labor, and related countermeasures. In-depth report on the development status of China's hardware industry and the problems it faces, make research reports on the market situation of China's hardware industry, and give a detailed speech on product development and technological innovation. At that time, we will arrange lectures and exchanges in the international hardware field, influential companies to introduce product profiles, the latest technology trends. It is proposed to invite senior officials of the Chinese government, relevant experts, scholars, representatives of internationally renowned institutions, famous hardware suppliers, buyers, representatives of Chinese hardware industry enterprises and other professional audiences. The guiding and authoritative nature of the industry is expected. The development of China's hardware industry and the international exchange and cooperation will be the best platform for obtaining information on the hardware industry and grasping the international market.
※ Exhibition introduction

China has become a major hardware processing and exporting country in the world with huge market and consumption potential. Guangdong is one of the most developed regions in China's economy. The hardware industry is an important pillar industry. Guangzhou is China's main foreign trade window. As the central city of Dawan District of Guangdong, Hong Kong and Macao, it leads Shenzhen, Zhuhai, Dongguan and Foshan with technological innovation. The rapid development of neighboring cities such as Zhongshan, Jiangmen and Huizhou, the scale of hardware tools manufacturing industry continues to expand, and presents a good trend of large-scale and diversified development. With the transformation and upgrading of the hardware products industry, it will usher in a new foreign trade pattern, high-tech Exports of technology products will increase.



In order to promote the huge demand in the hardware application market, we actively responded to the accelerated transformation of the economic development mode proposed by the state, helped Chinese manufacturing enterprises to achieve transformation and upgrading, improve the competitiveness of enterprises, and better meet the needs of the masses for a better life. Under the leadership of the competent authorities at all levels, Guangzhou Zhongqi Exhibition Co., Ltd. and the industry authority will hold the "2020 China Guangzhou International Hardware Exhibition" (CIHE 2020) at the Guangzhou Pazhou International Purchasing Center on April 13-15, 2020. We will use the geographical advantages to help enterprises expand their export channels more effectively. On the one hand, we will focus on the trillions of domestic demand markets, which will surely bring both exports and domestic sales. With a new concept, the Chinese and foreign exhibitors will provide an international business platform to expand business, technology exchange, display strength, obtain information, make customers, promote new products, and find partners. To provide more cooperation opportunities for the global hardware industry, and effectively promote China's hardware products to enter the global procurement system, coordinate and cooperate with the hardware industry in the world, mutual benefit and common development.


※ Range of exhibition

◆ Construction hardware, fasteners, DIY: decorative hardware, furniture hardware, door and window hardware, fasteners, wire mesh, pipe joints, fastener manufacturing equipment, building materials and accessories;

◆ Locks, security products and accessories: locks, keys, safes (cabinet), security equipment and systems, anti-theft devices and alarm systems;

◆ Mechanical and electromechanical equipment: welding equipment, small machinery, pumps, valves, electrical appliances, related departments, accessories, etc.;

◆ Processing and manufacturing equipment: metal processing equipment, motor production equipment, testing equipment, surface treatment equipment, heat treatment equipment, packaging, logistics equipment, etc.;

◆ Tools: hand tools, power tools, pneumatic tools, auto maintenance tools, abrasive tools, cutting tools, labor insurance products, related accessories and equipment, gardening tools, etc.

※ Target audience

Hardware and building materials distributors, agents, import and export traders, multinational chain retailers, international purchasing giants, decoration and decoration engineering, construction engineering and real estate hardcover project designers, buyers, automotive, machinery, mold, hardware manufacturing, equipment manufacturing, Distribution, logistics, certification, finance, media and upstream and downstream users of the industry chain.
※ Exhibition schedule

Report to the exhibition: April 11-12, 2020

Exhibition time: April 13-15, 2020

Dismantling time: April 15, 2020 afternoon
Industry colleagues are welcome to sign up for the exhibition. We are now accepting applications. Please contact the organizing committee to request an application form and booth plan! Take advantage of CIHE 2020 to strengthen your market position!